| | |
| --- | --- |
| | |
|  Kia Sorento |  Hyundai Santa Fe |
Comparing the 2021 Kia Sorento and the 2021 Hyundai Santa Fe
The 2021 Kia Sorento does a good job of standing out in a class that has a lot of good options. With a rugged design and impressive capabilities, our team wants to help you see what makes it the SUV you'll want in your driveway. As a model that makes your commute easier, gives you the confidence for any adventure, and the space for every errand, the Kia Sorento is a model that you'll love to have in your driveway.
Another popular option in this class is the 2021 Hyundai Santa Fe. As one of the other most popular options in its class, we wanted to help you see how it stands up against the 2021 Kia Sorento. Each of these models has updated its space and features for the newest model year, but only one will be right for the needs of your life. The bold design of each model isn't enough to base your decision on, which is why we've made a more thorough comparison.
Our team wants to show you how some of the top traits of each model can compete, making it easier for you to decide which will be the one that you and your family will need. After reading through our comparison, feel free to reach out to our team with any questions. We want you to feel confident with the model you choose, giving you a model that will be equipped with the features you and your family might need.
Be sure to schedule a test drive in the 2021 Kia Sorento for a closer look at each of the traits, giving you a closer look at what it can add to your life.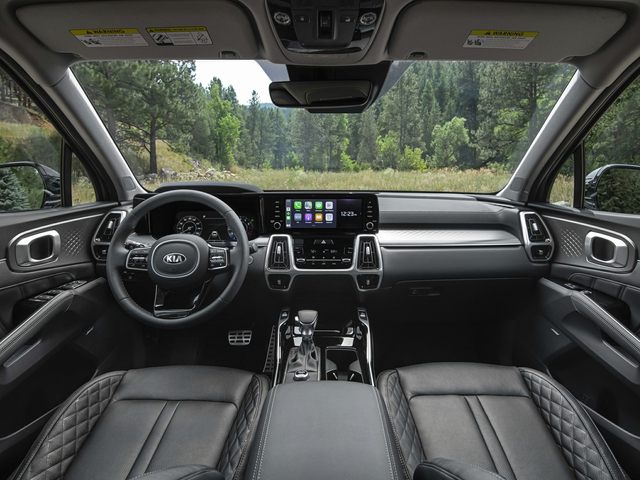 2021 Kia Sorento vs 2021 Hyundai Santa Fe
Both models can now tow up to 3,500 pounds to help you bring along the gear and equipment you might need for your next adventure.
The 2021 Kia Sorento can be upgraded to have more horsepower than the 2021 Hyundai Santa Fe, making it more exciting to drive during every vacation and commute.
The EPA estimated combined fuel efficiency of the 2021 Kia Sorento base engine is better than that of the 2021 Hyundai Santa Fe's base engine, helping you stop less during your drive.
The 2021 Kia Sorento offers the X-Line option specifically designed for more rugged driving. The 2021 Hyundai Santa Fe doesn't offer a trim that is based solely on adventuring and exploring.
Adaptive All-Wheel Drive with Lock Mode can be equipped on the 2021 Kia Sorento with Hyundai's HTRAC® All-Wheel-Drive (AWD) system available on the 2021 Hyundai Santa Fe.
The 2021 Hyundai Santa Fe lets you choose from Normal, Sport, and Smart driving modes while the 2021 Kia Sorento has a more diverse range, letting you choose from four different drive modes, including Snow Mode.
Each model has a wide array of driver assistance features to keep you feeling confident on even the busiest roads and highways.
There is a dual-level cargo floor in the 2021 Kia Sorento to help hide your valuables or to make for a secure place for loading smaller items, something that the 2021 Hyundai Sorento isn't advertised to have.
You can have up to seven seats in the 2021 Kia Sorento, which is more seating than you will find available for the 2021 Hyundai Santa Fe.
The standard touchscreen for both models is eight inches, while there is an upgrade to have a screen that is just over ten inches.