| | |
| --- | --- |
| | |
|  Kia Forte |  Hyundai Elantra |
Comparing the 2021 Kia Forte and the 2021 Hyundai Elantra
An exciting performance with a timeless design, the 2021 Kia Forte could be the car you want in your driveway. We look forward to seeing you on our lot so that we can get you on a test drive, making sure you'll always feel confident when you get behind the wheel.
Another popular car is the 2021 Hyundai Elantra, especially with the new design planned for the upcoming model year. We want to show you what to expect from this model upon release, comparing it with the available 2021 Kia Forte so that you will be able to decide which you want.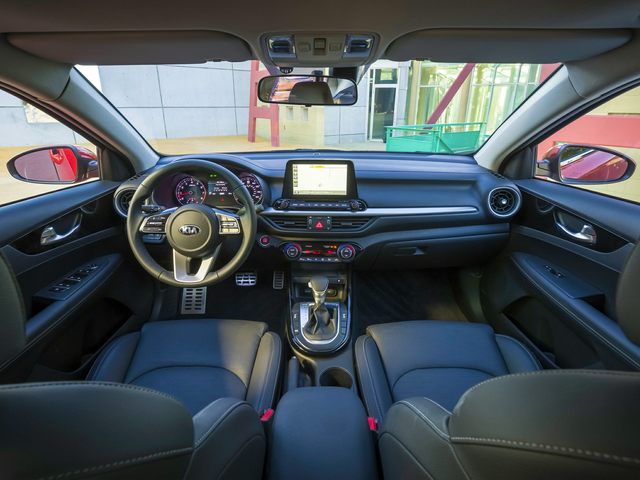 2021 Kia Forte vs 2021 Hyundai Elantra
The 2021 Kia Forte comes with more cargo space than the 2021 Hyundai Elantra offers.
There are two engines available for each the 2021 Kia Forte and 2021 Hyundai Elantra, offering 147 horsepower and 201 horsepower to keep you enjoying the time you spend in the driver's seat.
There is a 2021 Kia Forte equipped with a manual transmission, but the 2021 Hyundai Elantra does not offer a manual transmission.
Apple CarPlay® and Android Auto™ integration are equipped on both models, making app and smartphone control easy.
Both models come equipped with a wide range of safety features in the 2021 Kia Forte and 2021 Hyundai Elantra.
You'll be getting an eight-inch color display on the base trim of either model that you choose.
There is more rear headroom in the 2021 Kia Forte than in the 2021 Hyundai Elantra.
The 2021 Elantra is longer than the 2021 Kia Forte, making it more difficult to navigate crowded parking lots.
Both models have a sportier trim available with the 2021 Kia Forte GT and the 2021 Hyundai Elantra N-Line.
There is a seven-speed automatic transmission available for the 2021 Kia Forte while the 2021 Hyundai Elantra has a six-speed automatic transmission.